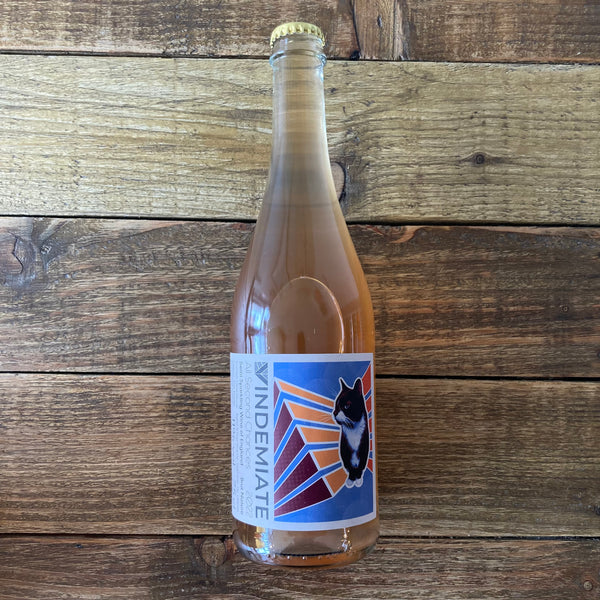 Grape varieties: 67% Pinot Noir 33% Pinot Meunier
ABV: 11%
Pale copper in colour with the slightest haze from secondary bottle fermentation. This semisparkling rosé presents note of bruised apple, hay and pink peppercorn on the nose. On the palate the apple notes are reminiscent of tarte tatin and are joined by stone fruit and strawberry sherbert elements. Nimble, fresh and easy drinking. Pair with sunshine and friends.
Suitable for vegans
About the producer
Vindemiate was born from a desire to make good – to make good for the environment and our customers and to make good wine. Good wine isn't just what you find in the bottle, it's every part of the journey from grape to glass.

Partnering with social enterprises and small scale 'garden' growers, people who understand that working in true harmony with nature is often at odds with conventional, large-scale agriculture. A growing movement towards sustainability not only of our environment, but of the practices and techniques used to manage it is what Vindemiate celebrate. and the low intervention approach to their winemaking allows the natural expression of the fruit to shine through.
I've loved getting the Beer Box Set Club every month, it's been great to sample an array of beers that I just wouldn't see/consider normally. And it's been great to help support smaller breweries in these difficult times. The tasting notes are also a great addition, helping me improve my beer knowledge and learning more about the breweries.
The Box Sets are great. Always a good selection, with a variety of strengths and styles. The tasting notes are well pitched. Something to look forward to every month!
It's like a boozy lucky dip where you win every time. Classic styles from some well-known brewers, the occasional curve ball or two and, every so often, something totally weird and always wonderful. There's always a great mix between stuff I'd definitely buy, stuff I'd definitely try and stuff I wouldn't usually but I'm so glad I did.
If you want a good variety of beers every month from amazing small brewers look no further! G&G beer dealers extraordinaire know their stuff and there is always something from someone you have not tried before. I enjoy everything I get each month.
I've been subscribed to the Beer No Evil subscription for a few months, and highly recommend it to anyone who enjoys experiencing new beers. The tasting notes are spot on. I like that I get to try lots of different beers that I wouldn't normally choose in a bottle shop - every beer is enjoyable and worth trying - exactly the point of the subscription.